Compare and contrast. Early in the epidemic when staying at home might have made a difference we have the #Metropolitan Police facilitating the #BLM riots by circulating the meeting place.
By early November though we can see that the tone has changed and the Met are now bragging about the arrests they made at a recent event. The major difference being that the #BLM event was a violent riot and the November event was a peaceful protest march conducted by ordinary men and women complaining that their businesses have been destroyed, that the rights commonly afforded to people in the UK are being trampled into the dust, that the Met are out of control and that that generally the #Covid crisis such as it is is being mismanaged on a colossal scale.
The Dormouse suggests that the bragging below makes the point quite adequately.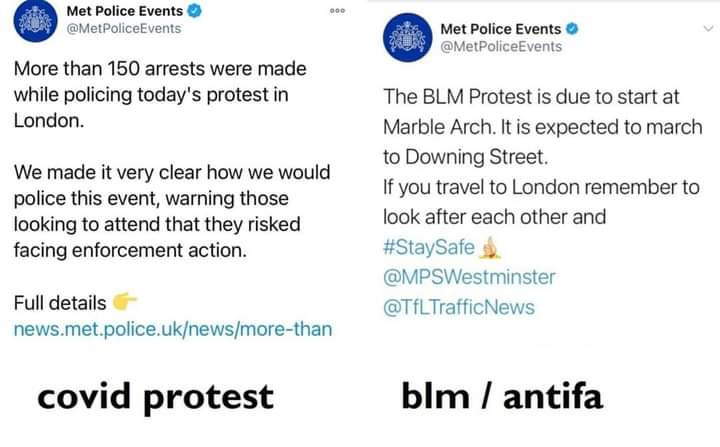 But don't take our word for it here's what the police have to say. Complain about lock down and we'll deal with you.
And you know what? In law he's correct. the right to protest has been removed from the current regulations. Do as you're told, don't complain or we will arrest and prosecute you …
… The Dormouse suggests that enough is enough.
As a final note for today, this is how the Met, Lock Down and UK policing generally is seen from abroad.